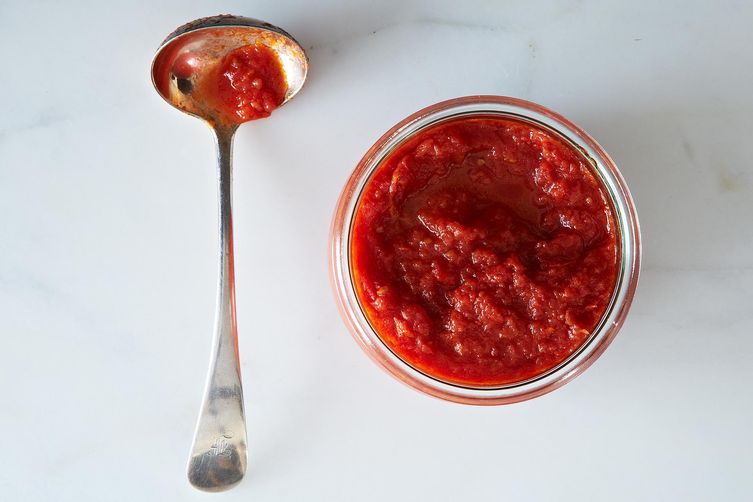 When preparing something that includes tomato sauce and you made much more than what you needed, therefore you end up with some leftovers… but you don't want to waste it, you don't have to! Here are some suggestions from Food 52 and The Food Network + How to store tomato paste tips by The Kitchn:
Tomato Sauce
Eggplant Parmesan

Coat long slices of eggplant in flour, bake, and then layer them with your sauce and with a ton of Parm. Add a thick ribbon of mozzarella in the middle. Bake it, and then throw a dinner party on a weeknight. (You can also make this a night ahead, and re-warm before serving.)
Shakshuka

Poached eggs for dinner is fine. Poached eggs in tomato sauce for dinner is awesome. Sauté whatever vegetables and spices you're in the mood for — I use onion, red peppers, red chili flakes, and cumin — and then add your tomato sauce. Once it's all heated through, crack your eggs into it, cover, and simmer until the whites are set and the yolks are runny. Top it all with tons of salt and black pepper. Eat with a loaf of bread.
Braised Chicken

Brown some chicken thighs on the stove, then take them out of your pan. Add some garlic, some stock or white wine, and your sauce to that same pot, bring it all up to a simmer, and then add your thighs back in. Cook until the chicken is tender, about a half hour. Eat like a queen.
Meatballs

Meatballs on a weeknight sounds fussy. But when you have your sauce ready, they're fantastically, mind-numbingly simple. Dump some meat, cheese, eggs, and herbs into a bowl, moisten the whole mess with some milk or some water, shape into balls, and then braise them in the your sauce. Boil up some pasta while you're at it. Invite some friends over. Open a bottle of Chianti.
Tomato Soup

This is so easy it's almost embarrassing: heat up your sauce, thin it out with some water or stock or milk or cream, and pour it into a bowl. Garnish with some herbs, if you're feeling fancy. Eat a ridiculous amount of it. Maybe make a grilled cheese, too.
Marcella Hazan's Tomato Sauce with Onion and Butter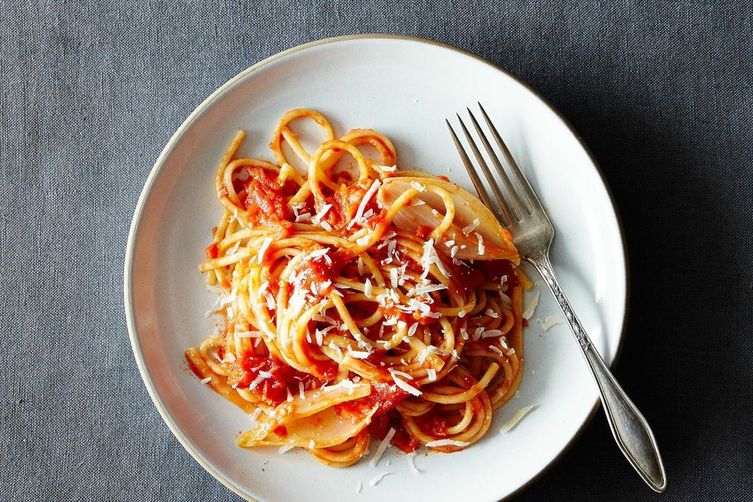 Serves 6
2 pounds fresh, ripe tomatoes or 2 cups canned imported Italian tomatoes, cut up, with their juice
5 tablespoons butter
1 medium onion, peeled and cut in half
Salt to taste
Spanish Rice

Cook 1 cup rice according to the package directions, substituting 1 cup pasta sauce for 1 cup of the water; stir in capers, Spanish olives and chopped scallions.
Potato Casserole

Mix mashed potatoes, some pasta sauce and grated Parmesan cheese in a casserole dish; top with more sauce and cheese and bake at 425 degrees F for 30 minutes.
Baked Brie
Slice the top rind off a small wheel of Brie. Cover lightly with pasta sauce and seasoned breadcrumbs, and bake at 400 degrees for 15 minutes. Sprinkle with fresh herbs.
Zesty Chip Dip
Combine equal parts sour cream and pasta sauce in a bowl; stir in grated Parmesan cheese, ground pepper and oregano.
Quick Ratatouille

Saute chopped bell peppers, zucchini, onion, eggplant and garlic in olive oil. Add 2 parts pasta sauce to 1 part water and some fresh basil; simmer until vegetables are tender.
Minestrone Soup

Boil 1 jar pasta sauce and 5 cups water. Stir in cooked small pasta, chopped mixed vegetables, canned beans and grated Parmesan cheese; cook until vegetables are tender.
Tomato Butter
Blend 1 stick butter and 1/4 cup pasta sauce in a food processor; stir in chopped parsley. Use plastic wrap to roll into a log; refrigerate.
Olive Tapenade

Combine 1 cup pasta sauce with 1/2 cup chopped Kalamata olives, 1/2 cup chopped roasted peppers, a big spoonful of capers and some parsley; serve with crackers.
African Stew
Saute chopped onion, garlic and ginger with curry powder; add 1 jar pasta sauce, 2 cups water, 1 can white beans and a diced sweet potato; simmer until tender. Stir in 1/4 cup peanut butter.
Cream of Tomato Soup

Saute chopped fresh herbs in butter; add 1 jar pasta sauce, 2 cups water, 1/2 cup heavy cream and a pinch of nutmeg; simmer for 5 minutes.
Stuffed Mushrooms
Mix breadcrumbs, chopped mushroom stems and grated Parmesan cheese with a bit of pasta sauce; stuff into mushroom caps, drizzle with olive oil and bake at 400 degrees F for 30 minutes.
Buffalo Wings

Lightly coat chicken wings with equal parts pasta sauce and hot sauce; roast at 425 degrees F for 40 minutes.
Tomato Croutons
Toss 2 cups cubed stale bread with 1/2 cup pasta sauce, 2 tablespoons grated Parmesan cheese and 2 tablespoons olive oil; bake at 400 degrees F until golden, 10 minutes.
Tuna Marinara
Simmer pasta sauce with halved olives, capers and a drained can of Italian tuna; toss with pasta.
Pizza Potato
Make a deep slit in baked potatoes, then stuff with some pasta sauce, chopped pepperoni and shredded mozzarella; bake at 400 degrees F until the cheese melts.
Italian Meatloaf

Add 1 cup pasta sauce, 1/2 cup grated Parmesan cheese and some chopped rosemary to a basic meatloaf recipe (using 2 pounds ground beef). Bake; top with more sauce and cheese 15 minutes before it's done.
Baked Beans

Simmer 1 cup pasta sauce with 1/4 cup honey mustard, 1/4 cup brown sugar and 1 large can white beans until bubbly.
Tomato Mac and Cheese
Mix some pasta sauce with prepared macaroni and cheese in a baking dish; drizzle with more sauce and bake at 350 degrees F until hot and bubbly.
Instant Salsa
Mix 1 cup pasta sauce with 2 tablespoons lime juice, 1/2 cup corn kernels, chopped cilantro, diced red onion and a dash of hot sauce.
Sweet-and-Sour Franks
Bring 4 cups thinly sliced onions, 1 cup pasta sauce, 1/2 cup water and 2 tablespoons brown sugar to a boil; cover and simmer 40 minutes. Serve on hot dogs.
Vodka Penne
Simmer 1/2 cup heavy cream and 3 cups pasta sauce in a skillet for 3 to 5 minutes; remove from heat and stir in 2 to 3 tablespoons vodka. Toss with cooked penne.
Saucy Marinade
Combine 1 cup pasta sauce with 1/4 cup balsamic vinegar and 1/4 cup olive oil; add smashed garlic cloves, salt and pepper. Use as marinade for 1 pound chicken or pork.
Tomato Biscuits
Spread refrigerated biscuits with pasta sauce; top with grated cheddar cheese and chopped scallions and bake as directed.
Taleggio Panini
Spread pasta sauce between 2 slices of crusty bread and top with taleggio cheese; cook in a buttered skillet or panini press.
Poor Man's Parmigiana
Alternate slices of garlic bread and mozzarella in a baking dish; top with pasta sauce and bake at 375 degrees until golden and bubbly, 20 minutes.
Tomato Polenta
Stir a dollop of sun-dried tomato tapenade into some pasta sauce; warm and spoon over prepared soft polenta.
Italian Quesadilla
Spread some pasta sauce on a tortilla; top with grated mozzarella cheese, sliced mushrooms and shredded chicken; fold in half and pan-fry until golden.
Chilaquiles

Cook 4 cups tortilla chips in pasta sauce until slightly softened; stir in chopped cilantro and top with grated cheddar cheese and sour cream.
Enchilada Sauce

Toast some chili powder in a nonstick skillet; add pasta sauce and canned green chiles and heat; drizzle over enchiladas or tacos.
Pizza Sticks
Brush refrigerated breadstick dough with pasta sauce; sprinkle with grated parmesan cheese and bake. Serve with extra sauce.
Greek Beans
Simmer pasta sauce with a cinnamon stick, a bay leaf and a splash of red wine vinegar; serve over white kidney beans; top with feta cheese.
Tomato Omelet

Whisk 3 eggs, salt and pepper; pour into a buttered skillet and top with grated fontina cheese and a few tablespoons pasta sauce. Cook until almost firm; fold in half and cook until desired doneness.
Polenta Bites
Slice a tube of premade polenta into rounds. Broil until heated through; lightly top with pasta sauce and grated fontina; broil until cheese melts.
Tomato-Fennel Soup
Thin pasta sauce with water; add sliced fennel, vegetable juice and a splash of pernod and simmer.
Chickpea Pasta
Simmer pasta sauce with chopped celery, anchovies and chickpeas; serve over penne.
Tomato Vinaigrette
Whisk 1/4 cup red wine vinegar with 1/2 cup olive oil, some shredded basil, salt and pepper. Whisk in a spoonful of pasta sauce; drizzle over arugula.
Eggplant Rolls
Grill or broil thinly sliced eggplant until tender. Spread with pasta sauce and ricotta cheese; roll up and secure with toothpicks.
Tomato Paste
 The Best Way to Store Leftover Tomato Paste:
Make dollops of leftover tomato paste with a tablespoon. Use a measuring spoon to drop dollops of tomato paste into a small pan or container. I like to line the pan with freezer paper or wax paper.
Freeze the dollops of tomato paste until solid. Put the pan with the tomato paste lumps into the freezer and freeze overnight or until they are solid.
Put in a bag or container for long-term freezer storage. When the tomato paste is solidly frozen, peel the lumps out of the pan and put in a freezer bag or in a freezer container for long-term storage.